Tulips, tobacco and herring in Kunsthalle Bremen
Read Time:
2 Minute, 47 Second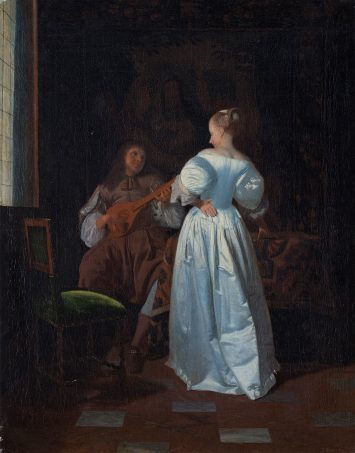 Review
Last year Kunsthalle Bremen received 32 seventeenth-century Dutch paintings from businessman Carl Schünemann. The donation was one of the largest in the museum's history. Now the entire collection is on show at the German museum, for the first time in decades.
Text: Evert-Jan Pol
Only seldom individual works left Schüneman's home. In the past year, The Serenade by Jacob Ochtervelt was, by exception, part of the travelling exhibition Vermeer and the masters of genre painting. It was shown successively in the Louvre in Paris, the National Gallery of Ireland in Dublin and the National Gallery of Art in Washington.
This masterpiece now has a nice spot in the exhibition Tulpen, Tabak, Heringsfang (Tulips, tobacco, herring catch) in Kunsthalle Bremen. It's immediately clear why this painting was travelling to three museums. Ochtervelt's light-dark contrasts are amazing. Wearing her silver dress, the serenaded lady is a beautiful contrast against the dark background.
The canvas is surrounded by other genre paintings in which women predominate. In the same room one can see a touching scene by Adriaen van Ostade of a mother with a child in a doorway.
Van Ostade is one of the bigger names in the presentation, together with Jan van Goyen. Many other represented Dutch masters are much less well known to the general public. Philips Wouwerman for example, was in his own time more famous than Rembrandt. But who knows his name nowadays? In the Dutch Golden Age he was the most successful painter of depictions with horses. A scene with these noble steeds can also be seen in Bremen.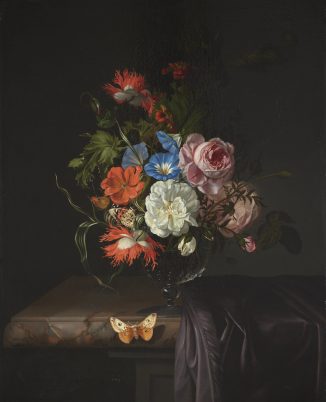 The presence of many less famous masters is one of the strengths of this exhibition at Kunsthalle Bremen. It shows that seventeenth-century Netherlands produced many more talented painters besides Rembrandt, Vermeer and Hals. Rachel Ruysch – the only woman among all men – was also one of them. She specialized in still lifes and then mainly the flower variety. Her colourful bouquet with two butterflies is shining between other still lifes.
In the same room the public can see a very unique piece: the only still life Willem van Odekercken ever created. He mainly made genre paintings. Also quite special is Hubert van Ravesteyn's still life with nuts, wine and a packet of tobacco. That package with imprint is a rarity in seventeenth-century Dutch art.
Because works like these Schünemann's collection and therefore the exhibition in Kunsthalle Bremen is a special one. With landscapes, genre paintings, still lifes and sea paintings the show gives a good impression of Dutch art from the Golden Age. But without most usual suspects. The presence of many less known masters is refreshing.
Tulpen, Tabak, Heringsfang. Niederländische Malerei des Goldenen Zeitalters, untill 26th August in Kunsthalle Bremen, Bremen, Germany
Rating: @@@@@@@@@@
Dit is de Engelse vertaling van de recensie Tulpen, tabak en haringvangst in Kunsthalle Bremen

Tags:
Adriaen van Ostade
Bremen
Carl Schünemann
Golden Age
Hubert van Ravesteyn
Jacob Ochtervelt
Jan van Goyen
Kunsthalle Bremen
Philips Wouwerman
Rachel Ruysch
Willem van Odekercken